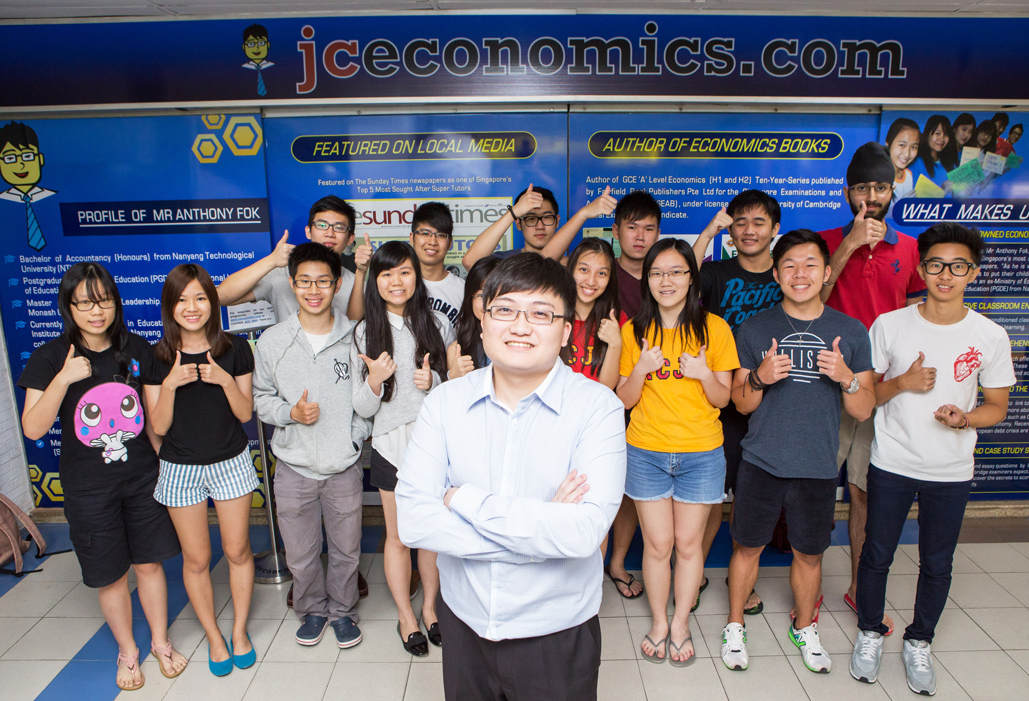 Super Tutors in Singapore
As Featured in The Sunday Times newspapers
Why Us? Read More
Mediacorp Channel 5
JC Economics Education Centre was featured on MediaCorp's Channel 5 programme on 31 July 2015.
Media Interviews on Tutor
Economics Books Published
Economics Tuition That Really Helps
Economics at JC level can be challenging. This is the first time students are in contact with the subject, and some students may find the subject so difficult that they lose interest in the subject altogether. A pity because it is a very marketable subject recognized by many employees and can open doors for students in the future.
At Anthony Fok's Economics tuition, students are in good hands as they are personally coached by JC Economics tutor Anthony Fok, who is a former Ministry of Education school teacher. We make sure that students are equipped with the required higher order thinking skills, comprising application, analysis, synthesis and evaluation. We teach students how to explain current economic trends using principles in textbooks, putting forth answers in an impactful argument supporting statements against contradicting views. In doing so, we are proud to have produced successful students who have gone on to graduate in prestigious universities such as the University of Cambridge and London School of Economics and Political Science.
Our Methodology
The A-Levels is the most excruciating time when students hope and strive to do their best for the examinations to enter university. The overwhelming Economics syllabus may be demanding to many. However, our students are well-equipped with the requisite skills to excel in their Economics examinations.  Our JC Economics tuition in Singapore (i.e. the Intensive Revision Programme) is specially designed for JC 1 and JC2 students preparing for the examination. We provide comprehensive revision notes which not only cover the syllabus but highlights case study skills to tackle higher response questions, application of strategies to past years' examinations questions. On top of this, Anthony will highlight common mistakes made by students and further sharpen the students' analytical skills.
"As he is well known for his ability to deliver results, parents try all means to put their children in his class." – The Sunday Times newspapers on 15 June 2008.
Our Locations
Bukit Timah Shopping Centre
170 Upper Bukit Timah Road
#B2-01
Whatsapp / SMS: 8251 3684
Tampines
Block 201E Tampines Street 23
#02-106
Whatsapp / SMS: 8251 3684
We apologise that the centre is only open during lesson hours. Thus, we are unable to attend to walk-in enquiries
Bishan
Block 513 Bishan Street 13
#01-500
Whatsapp / SMS: 8251 3684
"Mr Fok is a really caring and helpful teacher. Throughout the course of preparing for my A levels he was very supportive and answered any queries I had regarding any of the econs theories. He also took the trouble to prepare extra resources that were greatly beneficial in helping me in my understanding on various economic theories. Mr Fok guided me through the essay writing for econs which helped me clinch my A in econs. I would definitely recommend him to anyone looking for an economics tutor."
Lai Shu Min
"Mr Fok has helped me tremendously during the A-level period. He is always willing to help needy students like myself. Through an unconventional and innovative way to teaching, he not only manages to impart Economics knowledge and examination skills to us, he also teaches us many life lessons through Economics and teaches us to see things from a different angle. Lastly, I would like to thank Mr Fok for always being patient with me and helping me achieve an A."
Kai Yuan
"Mr Fok is a dedicated teacher who would go the extra mile to get resources (notes, test papers, etc) from almost all possible avenues. His lessons are enjoyable, making Economics seemingly easy to understand. Besides, he would tell jokes to keep the lessons interesting. But his jokes are not useless ones. In fact, they include current affairs that can be useful for other subjects such as GP! So it is a win-win situation! Most importantly, Mr Fok is more than just a teacher as he teaches us some important life skills."
May
Frequently Asked Questions
How do I sign up?
To register, please SMS student's full name, school, selected time-slot to 8251 3684. A confirmation SMS will be sent upon successful placement.
Is Economics tuition a necessity?
Singapore has been dubbed the "Tuition Nation". Even Prime Minister Lee Hsien Loong recently commented that tuition has become a "minor national obsession". Singaporean parents are certainly willing to splurge on tuition services for their children as they perceive tuition to be the key to academic success. In the last report on Singapore household expenditures in 2008 by the Department of Statistics, figures showed that Singapore households spent around $820 million on centre- and home-based private tuition, up from $470 million a decade earlier.
In today's competitive society, many parents view tuition as a necessary means to scoring distinctions in examinations and getting ahead of the academic race. However, Mr Anthony Fok believes that tuition should be viewed as a supplement to a child's education, and not an integral part of our education system or an obligatory pathway to success. The role of tuition should be to fill in the gaps of knowledge.
What makes Mr Anthony Fok special?
Mr Anthony Fok was featured on The Sunday Times newspapers as "one of the five most sought-after tutors in Singapore" in the year 2008. Quoting from the Sunday Times newspaper article, "As he is well known for his ability to deliver results, parents try all means to put their child in his class".
Mr Anthony Fok says, "I believe that my popularity as a top Economics tutor in Singapore comes from more than merely imparting Economics knowledge. I motivate the students to love the subject and to look beyond the academic grades. I teach values and life lessons that will be valuable to them even after graduation. I am more than a tutor to the students. I am a friend and a mentor."
"I help to shorten the learning process and bridge the gap between what was taught in schools and what eventually appears in the national examinations. Students look for me because they want to achieve their 'A' grade and I am confident that I can deliver the results they want, as long as they work hard together with me."
"I enjoy teaching and I am lucky to be able to find great satisfaction in my work."